Varia by Karl Leuthenmayr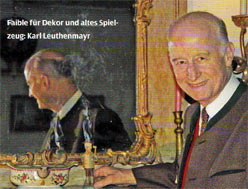 Exquisite curtains, decorative fittings or wallpaper: With his company Varia, Karl Leuthenmayr takes care of the decor details that round off a stylish interior.
"What is beautiful - and where does the kitsch start? That's the big question when it comes to style, "muses Karl Leuthenmayr. "Good taste is when something is brought into the right situation." A plausible definition. His new creation, the string curtain with glittering "optical fiber", illustrates this point of view. In an appealing ambience - such as a stylish shop window or at a trade fair stand - it looks cultivated. Combined with cheap plastic furniture, plush carpets and floral wallpaper, the risk of kitsch for the twinkle curtain would be significantly greater. Leuthenmayr sets high aesthetic standards for the range of its company Varia. This is confirmed by a look at the noble curtain fabrics made of finely patterned damask, organza, tulle and shimmering silk in inexhaustible colors, the ornate decorative tassels or the decorative brass fittings from our own foundry that fill the Munich showroom. He offers 600 different, fine fabrics, one even in 100 color variations. He also sells decor such as curtain rods and distinctive fittings, re-editions à la Louis XV. from the 18th century, extraordinary wallpapers, precious trimmings and non-flammable fabrics.
For almost 40 years, Karl Leuthenmayr has headed Varia, "the source of shopping for specialist retailers, architects and decorators", as he describes his global company with locations in Paris, Munich, London and Miami. The decor specialist developed his passion for fine fabrics as a young man. "I was fascinated by damask covers on antique furniture. And I always wanted to know how damask is made, "he recalls. After an apprenticeship at the French fabric manufacturer "Mercier Frères" and further years in the USA, he set up his own business in Paris in 1972. The young German, with an English school education, ideally equipped for international trade, initially specialized in upholstery fabrics. He designed fabric collections that he sold to upholstered furniture companies. "Having ideas is very important. Creativity is the crucial point in the company. And you have to know what the customers want, "says the style expert. When the French government decided that public facilities had to be made flame-retardant, Varia developed non-flammable materials in 1975 - with great success.
Whether sequin fabric or metal chains as a curtain - how does Leuthenmayr come up with new ideas? "The best ideas of my life came from mistakes in production and observations. Something goes wrong - and an idea for something new grows out of it, "says the 70-year-old. "The string curtain, for example, goes back to the flycatcher strips." His feeling for beautiful, special things, first-class craftsmanship and a sense of quality should also be helpful. "A processing that takes time and precision and a lot of love in manufacturing is important to me. Nothing is too expensive when it's beautiful. Of course, you have to find customers for it. And that's not so easy in Germany, "he said regretfully. He relies heavily on trading over the Internet, conferring daily on Skype with his German web designer in Bangalore or the French trimmings manufacturers. He jumps effortlessly from English into French - certainly a big plus for many of his customers, who include royal families as well as castle owners, theaters, hotels and trade fair exhibitors.
London • Paris • Munich • San Francisco • Warsaw • Prague • Budapest • Barcelona • Quito