Silk wallpapers made of wild silk on paper and fabric wallpapers with a paisley pattern
Wallpapers for the living area made of wild silk and woven fabrics
The silk wallpapers are hand-woven and backed with paper, so they can be laid like a normal wallpaper without changing the tension when it is dry and damp (autumn and winter).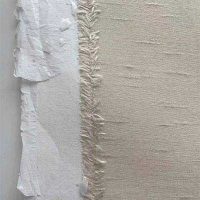 Traditionally seen in classic interiors, today you can find silk wallpapers even in the most modern interiors, conveying an elegant atmosphere. Color and texture are back in fashion for walls and our silk wallpaper collection claims to be the ultimate in luxury. Silk has an exceptional sheen that cannot be compared to anything else and creates dramatic walls with a natural texture and intense color depth.
We offer a wild silk wallpaper in over 160 colors, as well as a wallpaper made of woven fabric with a Parsley pattern in 6 colors.
Jacquard silk color selection
Wild silk color selection